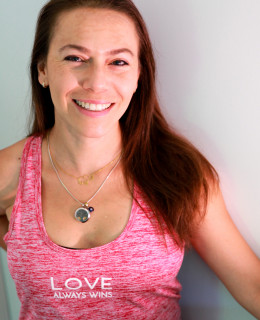 Elif (Ey-Leaf) İrtemçelik-Kozak
Certified Yoga Teacher (200hr)
Reiki Level II Practitioner, Usui System of Natural Healing
Growing up in different countries, Elif developed a love for languages, World music and food, and an appreciation for different cultures and human connection. She loves children, animals, sunlight, singing, dancing, and operating heavy machinery!
Elif has been educating pre-school through 5th graders since 1998 and practicing Reiki since 2000. She earned her MEd in School Psychology but chose to continue teaching.
She attended her first Yoga class in 2005 to reduce lower back pain. The physical improvement and the teachers focusing on balancing mind-body-breath inspired her to enroll in Yoga Teacher Training and deepen her understanding of Yoga philosophy and practice. Teaching Yoga was a natural aftermath!
Yoga is often described as a state of union or at-oneness. Elif's personal Yoga is where her experiences and innate tendencies of teaching, healing, music and movement meet. She enjoys guiding others in finding their own sense of union by creating safe, thought-out sequences with the Chakras (energy centers) in mind.
With concise cues, Elif guides you through a practice of strength, stability, flexibility, and relaxation for the body, mind, and breath. Wherever you are is where she'll meet you, encouraging taking what you experience on the mat into your daily life. The point is not to be 'perfect'. Goals we set motivate us to stay focused; the reward is in experiencing the work. When we fully experience life's journey, we realize our true self and get better at the art of living. Elif is on a journey of growth; her class is a safe place for you to meet yourself, wherever you are on your own journey.