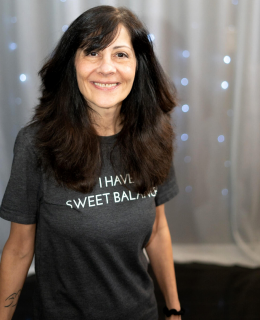 Lisa Poto
Hi, I'm Lisa.
I have been married for 29 years and I love being a mom to my son. I grew up in Revere and now live in Saugus.
Growing up I struggled with my weight, body image and anxiety. I turned to yoga and fell in love with the practice. The experience was life changing for me and I was inspired to become a yoga teacher.
I am a teacher of yoga but will forever be a student too.
I believe that through yoga we can develop a deeper connection to ourselves and the world and people around us. I love animals, classic literature, playing trivia games with my son, and every year I celebrate my birthday by doing something way outside my comfort zone.
I believe that life is a remarkable journey and yoga is teaching me to better flow with the challenges it can bring, and live a life of gratitude enthusiasm and joy!